Infinity Cattle Services - Progressive Partners Fall Online Sale

Location
Houston
,
TX
United States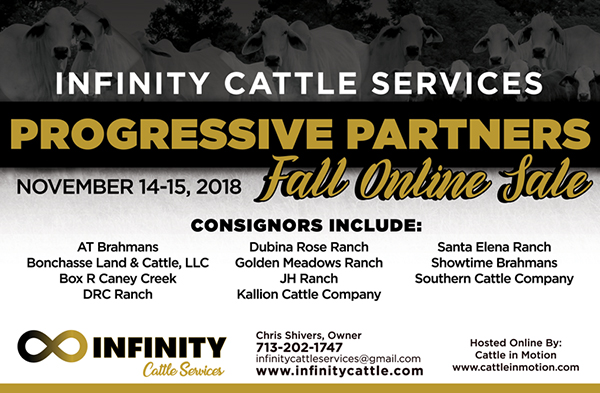 Dear Brahman Enthusiasts:
I want to first thank you on behalf of the consignors for your interest in this sale. This concept came about from several breeders who had quality cattle but not enough to host their own sale. Many of you have contacted me and shown an interest in participating in the future. I welcome your consignments and look forward to expanding this marketing opportunity to help accommodate your needs.
In regards to this sale, I simply could not be more impressed and excited about the quality of the cattle and genetics that have been consigned. To this point, I want to thank each of the consignors for digging deep and consigning cattle and genetic packages that represent their programs. I hope that you study the offering carefully as there are a lot of good opportunities and some that may never be offered again. We have tried to provide you as much information as possible on the lots to help make your selections. However, if you have any questions or need assistance I hope that you will contact me or any of the consignors.
With this being an online sale we have received several questions that I will share in hopes of potentially clearing up any confusion:
The cattle are located at their respective ranches. Once the sale is over we will send the buyers an invoice with the address and contact information of the seller of the lot(s) purchased. It will be the buyer's responsibility to contact the seller to arrange pick-up which should occur within 7 days of the sale unless otherwise negotiated with the seller.
The specifics of the genetic lots is outlined in the description of the lot.
Hauling of the live cattle can be arranged.
Once payment is received, the registration certificates will be transferred to the buyer and genetic lots released to the name of the buyer.
The sale will be conducted through the All in All Done Format that is described below. This is an internet sale which means that things can potentially go wrong. I encourage you to refresh your page frequently especially if all of a sudden the timer indicates that the sale has "Expired". Many times if you refresh you will see that the sale is still ongoing.
I wish you the best of luck and hope that you benefit from your purchases!
Chris Shivers
Sale Manager
713-202-1747
Consignors:
AT Brahmans – Garrett Thomas
Honey Grove, TX
903-609-6306
Bonchasse Land & Cattle Co., LLC – Cory Peters
Grand Cane, LA
318-834-2972
Box R Caney Creek Cattle Co. – Al Rogers
Normangee, TX
936-348-1674
DRC Ranch-Roy Cruz
Poth, TX
210-213-7244
Dubina Rose Ranch - Chris Shivers
Schulenburg, TX
713-202-1747
Golden Meadows Ranch – Chris Cooley
Cotulla, TX
303-588-7717
JH Ranch – Mickey Bell
Cat Spring,TX
832-264-6617
Kallion Cattle Company/ Diamond J Ranch – Grant Vassberg & JW Jones
College Station, TX
979-204-3126 or 281-386-9556
Show Time Brahmans – Chris Shivers
Terrell, TX
713-202-1747
Southern Cattle Company – Ken Stewart
Marianna, FL
601-528-4029
Close Out Process
This Sale will feature the Cattle In Motion All In - All Done Sale Close Out Format.
With this close out, as the time counts down No Bidding can happen within 5 minutes of the close of ALL Lots. So if the Lots are set to close at 7PM and with four minutes left (6:56PM), some one bids on lot 4, then enough time is added back to the clock to allow ALL lots to have 5 minutes (new close time is 7:01PM on ALL Lots), and the countdown resumes. Then if someone bids on Lot 8 at 6:59PM, then ALL lots are extended until 7:04PM. this process will go on until no one bids for a period of 5 minutes on ANY Lot.

Process to Bid Online
To be able to Bid Online for this sale, You will have to have completed the Following 3 Steps:
2. Complete Lifetime Verification
3. Sign Up for this Sale